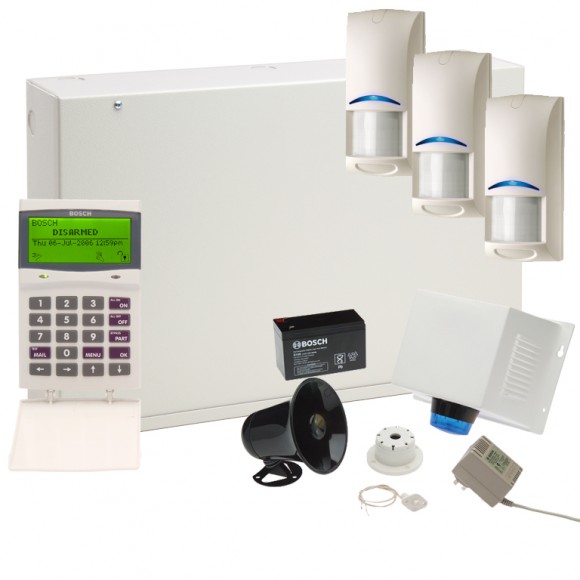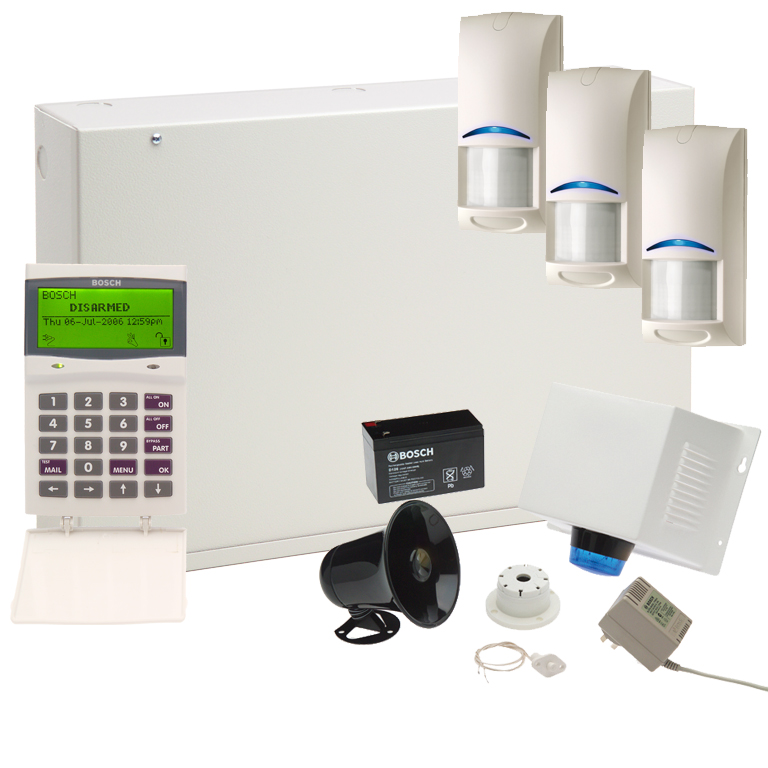 Bosch Solution 6000 Alarm panel with tamper switch
3 x Bosch Blue line Hardwired movement detectors (PIRs)
1 x External "Classic" style or "Slimline" siren with blue strobe
1x Internal siren (piezo)
Power pack & backup battery
Bosch 6000 LCD Keypad
Cables & connectors
24 Months WARRANTY on all parts
Suitable For: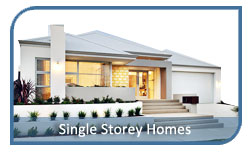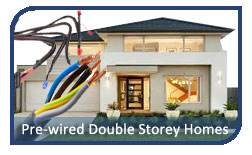 Bosch Solution 6000 Alarm panel with tamper switch
3 x Bosch Blue line Hardwired movement detectors (PIRs)
1 x External "Classic" style or "Slimline" siren with blue strobe
1x Internal siren (piezo)
Power pack & backup battery
Bosch 6000 LCD Keypad
Cables & connectors
24 Months WARRANTY on all parts
Frequently Asked Questions
Should I choose a Wireless or Wired Alarm System?

An alarm system comes in three categories – a wired system, a semi wired system and a wireless system.

A wired system is one where all the sensors are connected to the control panel with wires. The cables are usually run through the roof, so you won't be able to see them.

Benefits of a wired system: never have to change the battery.

A wireless system is one where the sensors relies mostly on batteries. We have wireless systems which relies completely on batteries and ones which are semi-wireless (like alarm pack 3).

Benefits of a wireless system: allows sensor access to areas which are usually not possible, especially for double / triple storey homes or homes with no roof access.

If your home in Single storey with roof access, we will recommend a wired system.
If your home has no roof access OR its a double/triple store and your home isn't prewired, then we recommend a wireless / semi wireless system.

How long does it take to install an alarm system?

It takes roughly between 4 hours and 6 hours for a typical alarm system. By typical alarm system, we mean 3-5 sensor system for single / double storey homes and businesses. If its larger, then obvously it will take longer.

How soon before you can install my alarm?

Depending on the season, we can do an install within 1-2 weeks. If your job is urgent, simply let us know and we'll try and squeeze you in for the earliest convenient time. Give us a call or fill in the booking form and we'll get back to you as soon as we can!

When can I have my alarm installed in my new home?

If your home is still in the construction phase, and:

1. You have a single/double storey home with no roof access OR

2. You have a double storey home and you're not keen on a wireless system, then:

we will need to pre-wire your home before the gyprock walls of your home go up. Make sure you check with your builder to ensure its OK for an alarm company to come and install your alarm. We will complete the install of the alarm once your home is completely built and you're ready to move in.

If you:

1. Have a single storey house with roof access OR

2. You have your system pre-wired OR

3. You are happy with a wireless system,

We can install your alarm system when you are about to move in.

What is an alarm zone and how many do I need?

A zone in alarm terminology is basically a slot on the control panel for a sensor. An alarm with 8 zones can handle up to 8 detectors – whether they are PIRs or reed switches or smoke detectors.

If you have 8 zones and have used only 3 sensors so far, you have the option of adding another 5.

The sensors are assigned to zones and when a sensor is trigger the system informs you which zone a sensor has been triggered.

Getting an alarm panel with 16 zones is pointless if you're only going to use 5 of those zones. You'll see the packages we've predesigned allow you to allow for additional sensors just in case you need it.

The alarm technician will be able to program certain zones to be active at STAY AT HOME mode – this means while you're resting at night, you can have sensors active in certain areas of your home. AWAY mode usually involves activating all the zones.

What is a PIR? (Passive Infrared Sensor)

A PIR is a sensor that is used to detect movement. They are commonly used in burglar alarms.

A pet sensitive PIR is a PIR that has some added technology that can tell the difference between a small movement (generally a pet) and a human. The detector allows a pet to move freely within a house but will be triggered if a large movement (like that generated by a human) is detected.

What servicing do I have to do to my alarm system?

With wired alarm systems, the backup battery will need to be replaced when it is unable to hold its charge. This is generally once every 5 years. The alarm will let you know when you hear a beeping sound coming from the control panel.

We provide backup battery replacement for a flat fee of 250.

With wireless systems, you would have to change the battery of the sensors every few years. The sensor will generally let you know when battery runs low. We can also assist you with this, but its generally an easy DIY change.

What happens when my Alarm goes off?

With most alarms when an alarm is triggered will make a deafening sound for around 10 minutes. This is a rule set by the state government to reduce noise pollution from false alarms. The alarm will arm again and if broken into again, will sound for another 10 minutes.

If you have a phone line and choose the "Alarm connection to phone line" upgrade for a Bosch alarm, we can program it so that it rings up to three numbers when an alarm is triggered. When the call is picked up, it will make a siren noise to let you know the alarm has been triggered. This is the most popular option.

You may choose to call your neighbour or family / friends to check up on your property.

If you choose to add Back to base monitoring, then an alarm monitoring centre will call your mobiles to let you know. They may then send out a security car to check up on the property for a fee.

If the alarm you've chosen is not a Bosch, please ask us what happens if you're not sure.

We also have systems that can:

> send SMS to you

> ping your iPhone

Cash, bank deposit and cheque are all OK.
This is expected to be payable on completion of the job or other terms as discussed with our team.

How many PIRs do I need?

We find that most average single storey homes needs 3 sensors. These go into the common areas of a house where an intruder would likely visit if they were breaking in.

The sensors would likely go:

somewhere facing the entry
a hallway or kitchen
a back room

If your home is large, you may need 5 or 6 sensors.

What is a perimeter alarm system?

A perimeter alarm is an alarm which features sensors at all potential entry points in the house. This is great if you're concerned about someone breaking into a window without crossing into one of the common areas.

If you like the idea of having a perimeter alarm, we can add:

reed switches on the windows
glass break detectors on windows
reed switches on the doors / garage.

Are all the package prices inclusive of GST / Installation?

Yes, indeed. We don't believe in trying to confuse you with taxes and other mumbo jumbo.

How loud is my alarm?

Our Bosch alarms are around 100 – 110 decibels. This is louder than a chain saw or a car horn at 5 meters away. 110 dB is as loud as a rock-n-roll band. The siren emits a high frequency oscillating siren intolerable to the human ear. It does a great job at forcing a burglar to have to leave.

What happens if I want a custom alarm package?

This is fine. Customers want to add more features or change things all the time.

You have the option of working out the price yourself via our easy to use extras information. eg. If your package is 1000 and you want to add an extra 4 sensors, you can simply add the cost of the extra 4 sensors to the package cost.

Alternatively, give us a call or fill out the contact form. One of our consultants will try and help you our to the best of their ability.

How often should I back up my CCTV footage?

The frequency of CCTV backup depends on the nature of the business or premises being monitored. For example, if you own a retail store, it is may be necessary to back up your CCTV footage weekly or monthly to ensure that any incidents that occur in the store are captured on camera. In contrast, if you own a home, backing up the footage everytime an interesting event happens.

It is important to ensure that your storage system has a large enough capacity to allow sufficient time to pass before the data overwrites on the hard drive

It is important to note when the CCTV is beeping – as this can sometimes mean a hard drive failure and it has stopped recording at that point.