We understand the importance of looking after the safety of our children.
When minding and dealing with your clients' children, there are so many safety precautions taken into account such as preventing hazards, reducing food related allergies or ensuring all children are looked after fairly, let alone security measures such as preventing unauthorized guardians or unwanted visitors from entering the premise.
At Serious Security, we understand that it can become tough for staff and colleagues to log and monitor every single activity that happens within the premise. That is why our sample solution below is popular among child care centres.
The child care floor plan below is a common example of how our child care centre clients choose to set up their security equipment.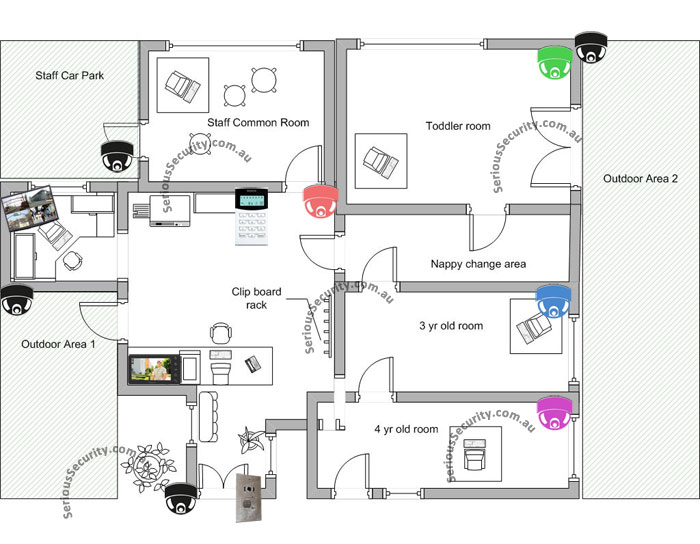 Security Package Installed:
Security Components:

The resolution of analog cameras are usually quite suitable and sufficient for most child care centres. It will allow you to monitor and recognise human faces and activities with ease. However, in the circumstance you feel your business requires more detailed monitoring on your premise such as recognising number plates on vehicles, then you will need to upgrade to our High Definition IP Network CCTV package.

Safety and security are regular concerns of working parents who need to place their children in child care centres for long hours. CCTV camera systems allow transparency on child care activities for the concerned parents.

 We recommend fitting an individual camera to each activity room. This will allow principal staff to monitor the activities of children and other child care staff inside the centre.

Well positioned and fitted cameras also allow child care centre staff to monitor and capture hazardous behaviour or unexpected incidences that may be used as evidence for insurance purposes or when reporting to relevant authorities.

Extra cameras are used for larger child care centres to monitor carparking, garden and other important outdoor areas.

All our CCTV packages come with a quality 19 inch monitor to allow back office staff to monitor common areas whether there is frequent supervision or not. All our packages also include remote viewing connection to your smartphone or tablet so you can monitor your business from anywhere, anytime.

Our most requested solution, a video intercom with a gate buzzer will allow child care staff to control who they permit to enter the premise. This is especially important during child-minding hours as cautionary measures are taken to avoid uninvited visitors on entering the premise.

A reliable alarm system will ensure that your business premise is well protected outside business hours. Ask about our mobile phone alert connection which will give the added comfort that you will be alerted should your business alarm has been set off.
For more Alarm or CCTV packages or other business security needs, click on a banner below:
Improving Childcare Security Systems
Australia is one of the safest places for childcare centres. However, this is not an excuse to become too lax in implementing childcare security systems. Criminals constantly find loopholes and faults in security systems which they can exploit. In response, childcare centres should also find better ways to strengthen their security measures.
Childcare providers are responsible for ensuring the safety of the kids in their care. Legal action may be taken in case a child is abducted from the facility, regardless if the culprit is a stranger, a guardian, or a parent. In addition to that, the damage to the reputation of the facility will be grave and no one will trust you again to handle the wellbeing of their children.
The best method to prevent abductions and other criminal activities from happening in the facility is by being more proactive in upgrading childcare security systems. Pre-emptive measures should be taken to avoid getting caught off-guard by criminals.
Here are ideas to supplement existing childcare security systems:
Lock all doors and windows
A keypad system is an effective tool to keep out unidentified individuals from accessing an area. Large institutions can afford it but small day-care centres might have to look for other options. Nevertheless, installing this kind of door lock can be a great addition to your childcare security system.
A cheaper alternative is a locked door system wherein doors remain locked until the visitor buzzes in. Employees, then, verify the identity and business of the visitor before being allowed to enter the premises. This prevents anyone from barging into the centre even when the doors are left unmanned.
Windows also need to be locked to prevent children from getting out and intruders from getting into the childcare centre unnoticed.
Install CCTVs and alarm systems
It's hard to chase children all the time and monitor everything they do. This is why closed-circuit television systems are a much-needed component in ensuring childcare safety and security. They help supervise activities that happen within the premise and deter criminals from entering the vicinity. Security cameras also help provide evidence to avoid misunderstandings between the centre and the parents.
CCTVs are reliable, effective, practical, and easy to use. They can also be used with sensors like burglar alarms and magnetic contacts to further enhance security within the vicinity.
Serious Security offers a complete security system that's popular among childcare centres. They have high-definition cameras to allow easier face recognition and surveillance of the tiniest details in the vicinity. The latter feature is especially helpful in recognizing the things children pick up which might be harmful to their health.
Improve entryways and lightings
Gates or even vestibules can be installed to prevent anyone from entering the facility easily. These also prevent children from getting out of the centre without adult supervision.
Fences can also be used to prevent children from climbing or getting under the furniture sets. The adventurous nature of kids might be amusing to observe but this often put them in danger. Having fences will help avoid accidents and keep them safe in place.
Every corner of the childcare centre must be well-lit to prevent anyone from hiding. Good lighting also helps the cameras get a vivid image of the vicinity.
Exhibit the presence of security personnel
Having security officers patrol the area will make criminals think twice before attempting to enter the facility.
Guards should be very strict in screening people who can enter the centre. They're the first and last defence of the facility since the facility is composed mostly of children and civilians who can't fend for themselves.
Children may want to play a prank to their caregivers and hide somewhere cameras can't see. Pranks like this often result in panic, misunderstanding, and even danger. To avoid this, routine checks should be made by security personnel to make sure there's no one left in the vicinity when it's time to go home.
Conclusion
Childcare security systems shouldn't be taken lightly just because the incident of child abduction in Australia isn't that high. Letting your guard down even for a second may cost not only your business but also the wellbeing of children in your care.
Fixing the environment of the childcare centre by adding security personnel, improving room lighting, and installing CCTVs can greatly enhance the safety and security of the facility.
If you're not sure where to start, consider getting Serious Security's childcare security system package so that you can monitor every inch of the centre wherever you are.