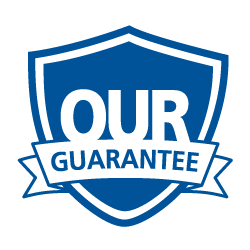 As one of our valued customers, we think it's important that you know exactly what you can expect from us, and the high level of customer satisfaction we strive for in everything that we do. That's why we created our Customer Guarantee valid from the date your complete payment is finalised.
Guarantee #1
A licensed and experienced technician will be the one installing / servicing your system.
Guarantee #2
Provide courteous and professional service from our trained and qualified personnel at all times. Provide an honest, efficient service
Guarantee #3
All our alarm systems come with 12-24 month parts Warranty.
Bosch has 24 month parts and labour warranty,
CCTV systems (unbranded and Hikvision) come with a 24 month parts and labour warranty.
Hard Drives have 1 year warranty.
The monitors that come with the CCTV system comes with a 12 month warranty.
All Intercom systems come with 12 month parts and labour warranty
This warranty doesn't include any faults / damage caused by malicious damage, misuse, power surges or any other faults caused by out of the ordinary circumstances / use. Its also not covered if you have someone else service the system that isn't us as we wouldn't know what they've done with the system.