Serious Security 316 Stainless Steel Screen Door Solution. We offer free-measure-to-fit service and quick manufacturing turnaround to get your door installed as quickly as possible. We ensure all doors fitted are tough against offenders and intruders.
Security Screen Doors are a no-brainer and must-have addition to any security solution. All our doors are manufactured and made in Australia, meeting and exceeding Australian security standards.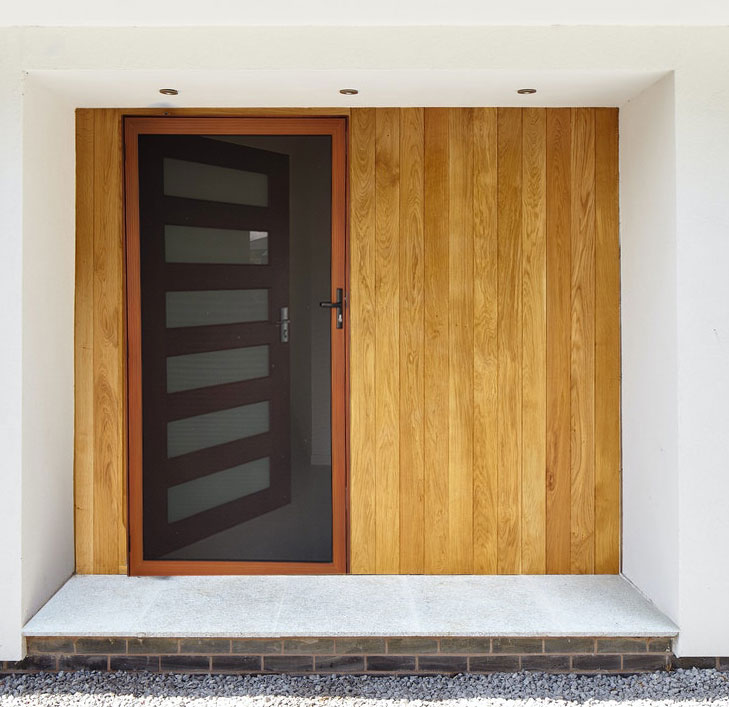 316 stainless steel mesh – only available in Black.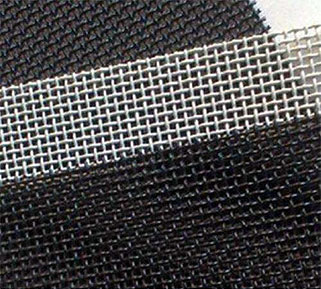 All security door frames and mesh are manufactured to fit perfectly within your current structure
7 Years Colorbond Frame Warranty and 10 Years Security Mesh Warranty
Our lengthy warranties guarantees your door is built to last.
Reliable Security Licensed Team
Get warranty, peace of mind and professional installation from a licensed specialist security company.
Get A Quick Easy Quote Now
Unsure what you need? Give us a call now on (02) 8734 3250
316 Stainless Steel Mesh – Security Screen Door
Free Triple Lock System, Free Bug Flap, Free Door Closer, Free Measure-To-Fit
10 year mesh warranty & 7 year frame warranty
Using the industry's strongest high tensile strength steel mesh to secure your front door. Plenty of door frame colours to suit your facade. Feel secure when communicating to strangers behind a steel locked door.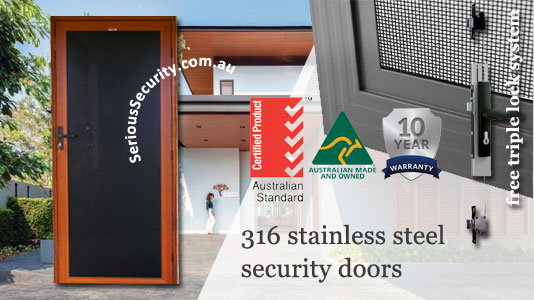 Package Snapshot:
From $937 per door installed incl gst.
1 x 316 marine grade steel mesh security door (within standard door size 2100mm x 850mm)
– custom powder coated colorbond colour options
– free measure-to-fit onsite (standard height is 2.1m. For taller doors, please see additional extras below)
– free triple lock system
– free bug seal flap
– free door closer
– 10 year steel mesh warranty with 7 year frame warranty
Available Extra Options:
| Add On | Extra Options | Add On | Extra Options |
| --- | --- | --- | --- |
| +245 | For Western Red Cedar – natural timber colorbond finish (most popular) |  FREE |  Triple Lock System (3-point lock) |
| Free | Door Closer | FREE |  Bug Strip / Flap to prevent outdoor bugs entering |
| +145 | Small Pet Door 190 x 240 | + 180 | Medium Pet Door 225 x 305 |
| +240 | Large Pet Door 260 x 400 | | |
Know the measurements for your door? Get an instant quote below:
| Size | Hinged or Sliding Door Price (2100mm high) | Upgrade to 2400mm high doors |
| --- | --- | --- |
| 0mm-855mm wide | $ 937 installed incl. GST per door | +$130 per door |
| 855mm – 1000mm wide | $1067 installed incl. GST per door | +$156 per door |
| 1001mm – 1300mm wide | $1197 installed incl. GST per door | +$195 per door |
| 1300mm – 1600mm wide | $1392 installed incl. GST per door | +$195 per door |
All hinged doors are fitted with a triple lock, bug seal and door closer
All sliding doors are fitted with a single lock
All doors meet Australian security door standards and will be installed by security licensed personnel only. 
Note – all pricing on website may be subject to change after an on-site inspection (to confirm exact measurements). These prices presented are for customers within the Sydney Metro areas only. If the size of your door are larger than the standard door sizes presented on the page, we will provide a custom quote to accommodate for the extra size. To go ahead with all booked installs, a 30% deposit will be required before construction of your door will commence. Remaining balance to be settled after installation. We endeavour to have all doors installed to the agreed date and time booked with our specialist. However, please be advised that delays in installations may occur in the event of uncontrollable phenomenon such as rainy weather. We will rebook with the customer for the next best date to complete the installation. HOW TO MEASURE YOUR DOOR
Why Use 316 Stainless Steel Mesh for your Security Door
316 is one of the highest and strongest grades given to evaluate the corrosion resistance for any stainless steel material. In comparison to it's relative 304, the chemical composition in 316 stainless steel allows it to be a corrosion resistant steel while also having excellent strength, toughness, fabrication characteristics and weldability.
At Serious Security, we guarantee that we only use 316 Marine Graded  Steel for your security door, ensuring that the door we install will withstand against break ins and forceful entry when locked. Our 316 Stainless Steel Mesh Security door offer both the comfort of unobstructed views between the inside and outside of your property, with the added peace of mind that your door has been tested against knife shear test, anti-jemmy test, impact test, pull test and salt corrosion.
Your security screen door system will require regular maintenance to remove contaminants caused by air pollution, industrial pollution, salt and varying climatic conditions. As part of your warranty, you will be required to maintain a cleaning schedule to ensure your door is prevented from corrosive activity that is beyond our control. While we use the highest quality materials to ensure your security door will withstand and last through the toughest conditions, there are small factors that we cannot control if you live in certain areas that have a high volume of industrial pollution or salt in the air.
The following table indicates the suggested frequency of maintenance:

How to clean:
You can simply use a soft bristled brush or non-abrasive cloth mixed in with warm water and a neutral detergent to gently wipe your screen doors. Then rinse with off water. Abrasive cleaners and harsh detergents are not recommended as these can scratch or damage the surface area.
Alternatively, you may wish to purchase Powawash bottle in place of warm water and detergent to ensure that your screen is maintained effectively against abrasions and comply with the 10 year screenguard warranty.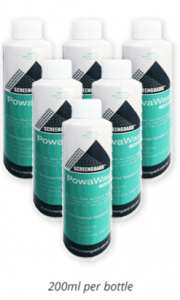 What you will need:
A measuring tape!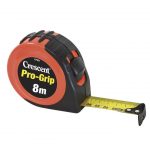 How to Measure:
This is what your door looks like: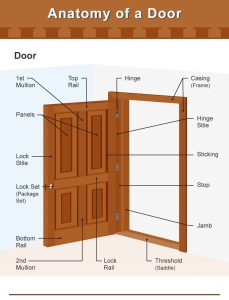 This is where you should measure:
You should measure within the door frame's casing that you want your security screen door to fit into. On most frame casings, you will notice an extra border that sits just in front of the main door's casing. Our doors are all about 20mm thick. This extra casing border is required to fit our doors.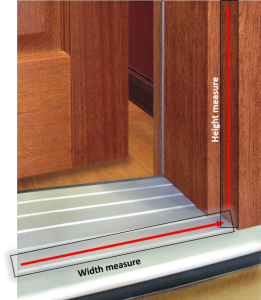 Two ways to measure your door:
Simply measure your existing screen door if you have one: If you are happy with the current sizing and the way your existing door fits, and you're simply looking to upgrade to a strong security door, you can simply send us the measurements of your existing door.
Door Height: Measure from top to bottom of the screen door on both the left and right hand sides; send us the shortest of the two measurements.
Door Widths: Measure the top and bottom widths of the screen door; send us both measurements.
If your measuring for a new screen door:
Door Height: Measure from top to bottom of the screen door on both the left and right hand sides; send us the shortest of the two measurements.
Door Widths: Measure the top and bottom widths of the screen door; send us both measurements.
If you're unsure, that's okay! We will be visiting you onsite to re-measure more accurately before placing your order. This is to simply allow you to get a quote over the phone and book an install immediately.
Why Sydney Customers Choose Us For All Their Security Needs

Great products – All of the products we use are ISO 9001 Certified backed with minimum 12 months manufacturers warranty. Most of our systems have a 2 year warranty with extended warranty available.

Solution driven – We stock a wide range of high quality Alarm and CCTV security products and solutions. We will likely be recommending to you a solution that fits your budget and needs – not one that increases our bottom line. We provide all potential clients with honest feedback and home security appraisals as to the current level of protection in place at their property, and what security system products will best assist them.