When you have a warehouse full of valuable stock or equipment, it pays to keep a watch on them.
We understand that when you invest thousands of dollars into your supplies or products, it is imperative to have ongoing surveillance to prevent unwanted theft, vandalism or damages made by intruders.  CCTV surveillance helps monitor potential hazardous behaviour by staff to prevent unnecessary workplace accidents and to also monitor incoming and outgoing delivery activities outside the warehouse.
At Serious Security, our team are experienced with fitting out security for warehouses of all sizes. Whether you are working in a 1000 sqm warehouse or 16,000 sqm warehouse, we have the skills and the experience to professionally install your security solution effectively.
The warehouse floor plan below is a common example of how most warehouse owners choose to set up their security equipment.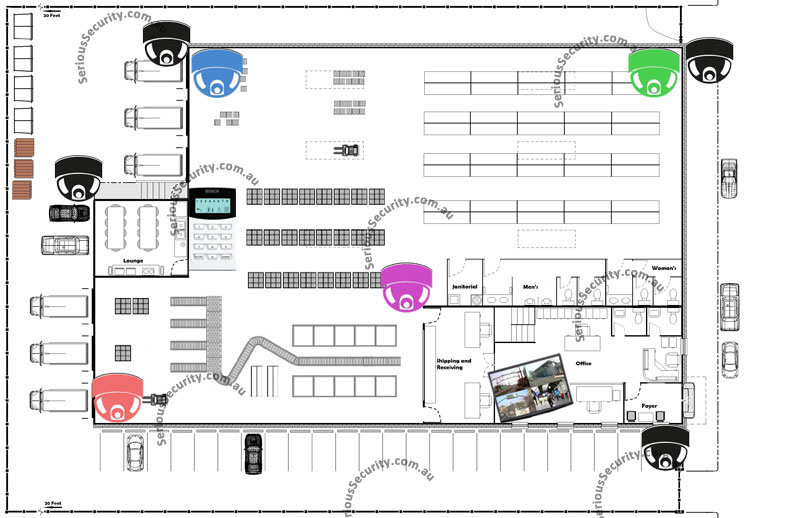 Security Components:

A warehouse where movements of large inventory, crates of supplies or large equipment are frequent, it is often difficult for floor managers or supervisors to monitor every single activity. An analog CCTV system is sufficient in monitoring staff and authorised visitors who may be frequently moving supplies around the warehouse.

Well positioned CCTV cameras will help capture hazards or monitor staff activity within hidden areas of the warehouse where staff are expected to work autonomously. It will also allow transparency of work activities between subordinates and management.

Common areas of fitting your security camera are within sections of the warehouse that have less people traffic. This will reduce the need for staff to man the area on foot.

Our technician will also help advise which areas of your warehouse would be most vulnerable and help you position cameras in the best angle possible so your management team may have the largest possible view span on difficult-to-see areas of your warehouse.

Outdoor cameras are as important as indoor surveillance cameras. These will help monitor visitors and vehicle traffic outside and around your warehouse block.

All our CCTV packages come with a quality 19 inch monitor to allow back office staff to monitor common areas whether there is frequent supervision or not. All our packages also include remote viewing connection to your smartphone or tablet so you can monitor your business from anywhere, anytime.

A reliable alarm system will ensure that your business premise is well protected outside business hours. Ask about our mobile phone alert connection which will give the added comfort that you will be alerted should your business alarm has been set off.
What Your Warehouse Security Package Costs Could Be (if you've got a suspended ceiling and under 350m2 otherwise call us out for a free quote):

For more Alarm or CCTV packages or other business security needs, click on a banner below:
CCTV For Warehouses? Why?
CCTV, or closed-circuit television, can greatly improve the security of a warehouse by providing continuous monitoring and surveillance of the facility. Here are a few ways in which CCTV can enhance warehouse security:
Deterring theft: The presence of CCTV cameras can act as a deterrent for potential thieves, as they will be aware that they are being recorded and may be caught.
Monitoring employee activity: CCTV cameras can be used to monitor employee activity, ensuring that they are following proper procedures and not engaging in any criminal or unauthorized activities.
Identifying security breaches: CCTV cameras can provide real-time footage of any security breaches, allowing for quick response and identification of the culprits.
Improving response times: With CCTV monitoring, security personnel can quickly identify and respond to any security incidents, reducing the amount of damage and loss.
Assisting with investigations: CCTV footage can be used as evidence in investigations and can aid in identifying suspects and reconstructing events.
By implementing CCTV cameras in strategic locations throughout the warehouse, companies can improve their overall security and protect their assets.