Running a cafe can occupy a lot of your time.
Inbetween making sure your guests are happy, stock taking with your suppliers, collecting orders and watching over your staff, there is little time to be able to focus on theft prevention or monitor unexpected incidents within the business.
That is why our team at Serious Security is serious about making sure your business is properly set up with the right security equipment from the start, so you can focus on what's important.
The cafe floor plan below is a common example of how our cafe clients choose to set up their security equipment.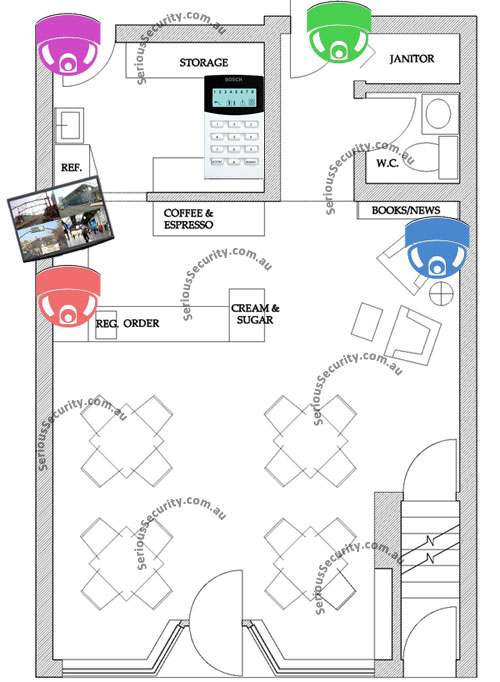 Security Package Installed:
Security Components:

One of the most common concerns that we hear from our cafe clients is the importance of monitoring staff behind the cash register. A well positioned high definition camera would be able to capture the ingoings and outgoings of cash managed.

A common mistake business owners make is not installing the right camera resolution right from the beginning. We recommend all cafe owners install high definition IP cameras which will provide the necessary resolution to capture clearer and more detailed images should you need to claim for insurance or provide evidence of any unexpected incidents.

Missing inventory or misuse of business equipment are also both common concerns to cafe owners. Placing a well positioned camera within storage areas will deter staff or uninvited visitors from mishandling or misusing business assets.

Most cafe businesses have both a front and back entrance. Ensuring all entrances are monitored will provide peace of mind to the busy business owner.

All our CCTV packages come with a quality 19 inch monitor to allow back office staff to monitor common areas whether there is frequent supervision or not. All our packages also include remote viewing connection to your smartphone or tablet so you can monitor your business from anywhere, anytime.

A reliable alarm system will ensure that your business premise is well protected outside business hours. Ask about our mobile phone alert connection which will give the added comfort that you will be alerted should your business alarm has been set off.
What Your Cafe Security Package Costs Could Be (Provided you have a suspended ceiling)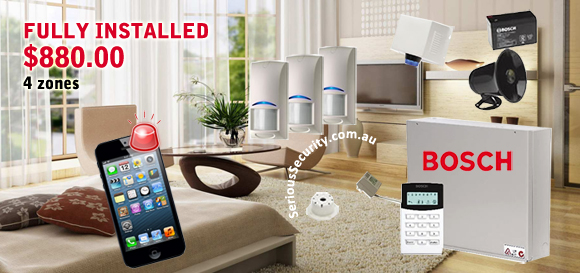 For more Alarm or CCTV packages or other business security needs, click on a banner below: