Having proper security surveillance in place is important to any cash business.
Protecting inventory from petty thieves, product pinching and daylight cashier robberies are a few of the crucial concerns for any convenience store or grocery business owner. With the employment of minimal staff on a rotating roster, it may be difficult to monitor every single crevasse of your business premise during business hours.
At Serious Security, we have a wide range of options to ensure you install the right security solutions for your store. It could be as simple setting up the correct surveillance or alarm system to deter offenders from robbing your business.
The convenience store floor plan below is a common example of how most store owners choose to set up their security equipment.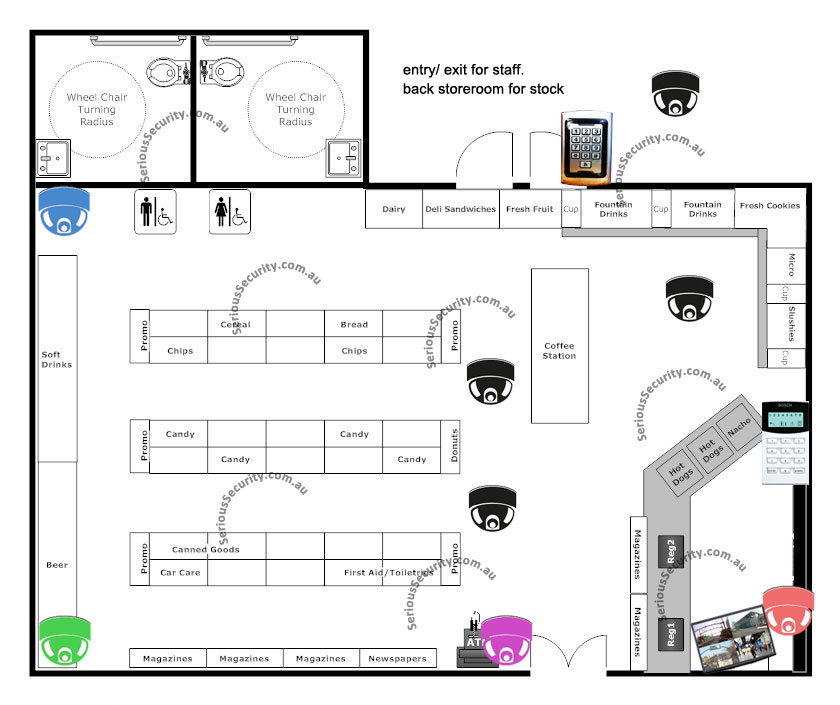 Security Package Installed:
Security Components:

High definition IP cameras allow business owners to zoom in on the finest details such as the letterings on a poster or the dollar amount of a 20 dollar note. This provides the extra security that during unexpected burglary attempts, all collectable details of a petty thief or burglary are captured on a higher resolution camera for evidence.

For the average convenience store owner, employing 1 or 2 staff on site at any one time is the norm. Because of minimal on site staff, it can become difficult for your employee to monitor every aisle or food area of your store when serving customers at the main counter.

Positioning high definition surveillance cameras that captures all possible angles and aisles of your store is crucial in protecting inventory from being stolen and to deter offenders from attempting thievery.

The high visibility of the cameras mean that your staff can monitor all customer activities without having to leave the counter. This will allow your employee to respond effectively and immediately to unwanted incidents and protect your business from unnecessary thievery or insurance claims.

Additional ceiling cameras or outdoor cameras will further monitor unsavoury behaviour and provide additional security comfort to staff working alone on site.

All our CCTV packages come with a quality 19 inch monitor to allow back office staff to monitor common areas whether there is frequent supervision or not. All our packages also include remote viewing connection to your smartphone or tablet so you can monitor your business from anywhere, anytime.

A reliable alarm system will ensure that your business premise is well protected outside business hours. Ask about our mobile phone alert connection which will give the added comfort that you will be alerted should your business alarm has been set off.

Installing an access control pad allows you to only permit your staff from entering the back office or the storeroom where your valuable inventory are located. This will prevent the wandering customer from entering areas where they are not permitted.
What Your Convenience / Grocery Storey Security Package Costs Could Be: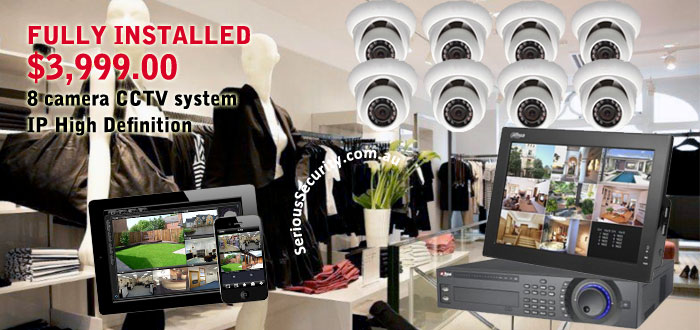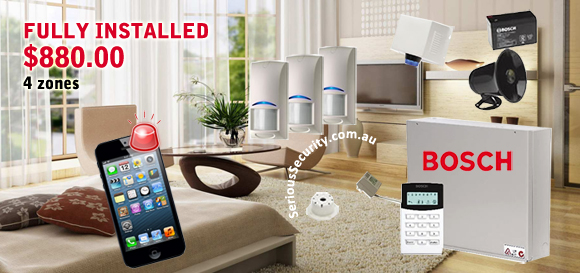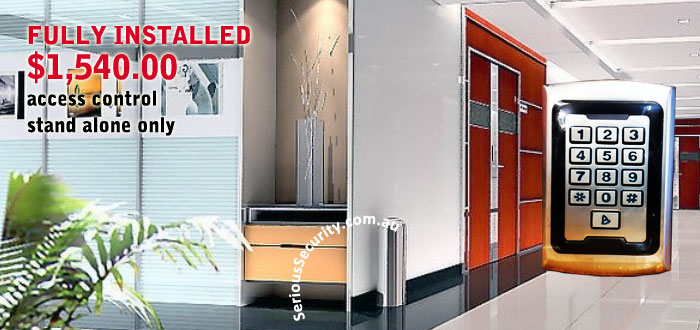 For more Alarm or CCTV packages or other business security needs, click on a banner below: