Inner Range's Inception is an access control and security system designed for use as a stand-alone system within small to medium size buildings and facilities. With its native web-based control, Inception offers a powerful, ultra-modern and affordable approach for managing your security needs in facilities such as:
Commercial offices, warehouses and factories
Retail shops, restaurants and cafes
Smart Apartments
Smart Homes
There are many more applications where Inception can be deployed as a powerful and modern security solution.  The Inception system is scalable, meaning additional hardware modules can be connected to the main controller to provide additional detection inputs, access controlled doors and even automated functions.
Inception is an integrated access control and security alarm system with a design edge that sets it apart from the pack. With web-based software built directly into the main system controller, the Inception system is easy to access using a web browser on a computer, tablet or smartphone.
With a step-by-step commissioning guide and outstanding user interface, Inception is easy to install and very easy to operate.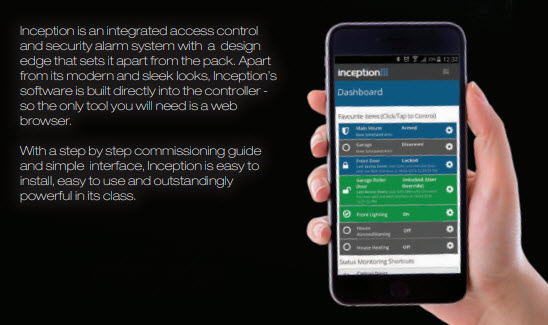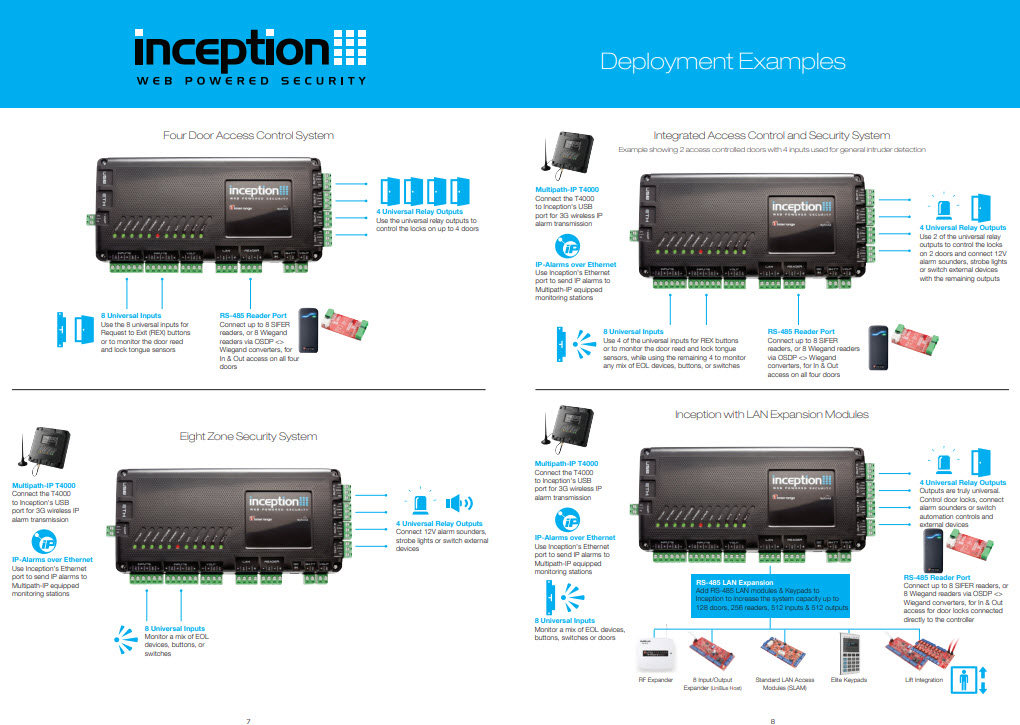 Budget Friendly Security Solution – Estimated Costs
The Inception system is a budget friendly security solution that is both powerful and very flexible. With no software costs and truly universal inputs & outputs, Inception can often be deployed as a stand-alone controller reducing the need for additional hardware.
For an average commercial premises with 1 access control door and up to 100 cards, expect a cost of around 5-7k. Each additional door with access control – additional 1.6k (roughly) 
Web Powered Convenience
Inception's web-based interface is the gateway to convenience for both the system installer and the end user. For the system installer there is no need to install software on a computer and no need to leave a computer running on site. Inception can be configured and commissioned using almost any device that has a web browser.
For end users, the Inception system is simple to control and leverages your existing smartphones, tablets or computers. The Inception Security System is connected to your local network, meaning you can use almost any web-enabled device to access your system, including hard-wired desktop or Wi-Fi connected devices.
The Inception System Capacities
Access Controlled Doors – Up to 128
Card Readers – Up to 256
Security Monitored Areas – Up to 32
Inputs – Up to 512
Outputs – Up to 512
Lift Cars – Up to 32
Card Holders / Users – Up to 10,000
Event log – Up to 50,000 events