Serious Security Jordan Springs supplies and installs Bosch and other branded alarm systems for homes and businesses.
Serious Security understands you need a solution to help protect you and your valuables from robbers. Flexible solutions to suit your needs are an essential part of what Serious Security offers and with our simple and transparent solutions we can help protect commercial and residential properties throughout Jordan Springs.
You can reduce the risk of becoming a victim of burglary by installing security alarm systems.
Our systems include hard-wired and wireless options (a hard-wired system has wires that connect components to a control panel). The most common type of alarm we install are Intrusion Alarms, providing protection via internal movement detection sensors. We can also install detectors that monitor if doors are opened and reed switches that will activate the alarm if a window or door is attacked before an intruder gains entry.
Key Benefits of an Alarm System
> Protection your family / staff from robbers (significantly reduced risk of burglary)
> Helps protect your assets from theft
> Save money on your insurance policy
> Increased resale value
Our Jordan Springs alarm technicians are ready to help install your new alarm system.
Give Serious Security a call for a FREE no obligation quote for security alarm installations in Jordan Springs – Call us on (02) 8734 3250. Alternatively click on the link below and check out our most popular Alarm Systems along with rough pricing.
One of our most popular systems for small single storey homes: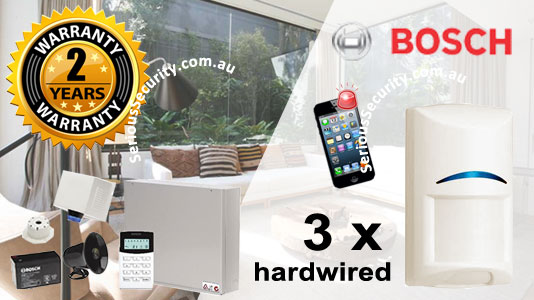 Crime Rates in Jordan Springs
We have summarised key information from the NSW Bureau of Crime Statistics and Research, with data collected from July 2013 – June 2014, regarding robberies, thefts and malicious property damage.
The rate of Robbery in postcode 2747 is 97.4 per 100,000 people. This compares UNFAVOURABLY to the state average of 51.5 per 100,000 people. The robbery rate is higher than the NSW State average
The rate of Theft, which includes break and enters in this area is 3775.7 per 100,000 people. This compares UNFAVOURABLY with the state average of 3360.4 people. The rate of theft is around the NSW state average
For malicious property damage within postcode 2747, the rate compares UNFAVOURABLY with the rest of the state with 1508.1 per 100,000 people vs the state average of 978.2 per 100,000 people. The malicious property damage rate is higher than the NSW State average
,
| | | | |
| --- | --- | --- | --- |
| Crime Type | Average per 100,000 in 2747 | Average per 100,000 in NSW | How does it compare? |
| Robbery | 97.4 | 51.5 | UNFAVOURABLY |
| Theft (includes B&E) | 3775.7 | 3360.4 | UNFAVOURABLY |
| Malicious Damage to property | 1508.1 | 978.2 | UNFAVOURABLY |
The suburbs represented within this postcode are :
Cambridge Gardens
Cambridge Park
Claremont Meadows
Kingswood
Jordan Springs
Llandilo
Shanes Park
Werrington
Werrington County
Werrington Downs
For a quote to help protect your premises, please contact our team or browse our security products for more info